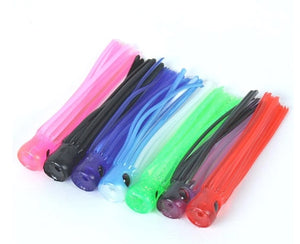 SQUIDNATION SLAMMER CHUGGER-10 Pack of Chuggers
Good Karma Fishing Tackle
Regular price $14.99 Sale
Planning a trip to the Florida Keys this spring. Better have these in your bag. Not all chugger baits are created equal. These have special "silver sparkle". 
Squidnation Slammer Chugger - Ideal for Circle Hook Fishing

The Squidnation Slammer Chugger has a head diameter of 11mm, which is big enough to move water when trolling, and small enough to be smaller than the gap on conventional 7/0, 8/0, and 9/0 circle hooks.  3 inches long.  This tiny bait enhancer tracks true and won't jump around in rough seas, but it's still big enough to make the ruckus necessary to bring billfish into your spread.  The small diameter won't hamper billfish bites, and makes this a great way to entice fish.  Sold in several vibrant colors, both indiviudally and in 10 count packs, this tiny chugger is a great value.
The Squidnation Slammer Chugger has a head diameter of 11mm and a length of 3″Big enough to move water when trolling, and small enough to be smaller than the gap on conventional 7/0, 8/0, and 9/0 circle hooks
This tiny bait enhancer tracks true and won't jump around in rough seas, but it's still big enough to make the ruckus necessary to bring billfish into your spread
The small diameter won't hamper billfish bites, and makes this a great way to entice fish
Sold in several vibrant colors, both indiviudally and in 10 count packs
The slammer chugger is a great value