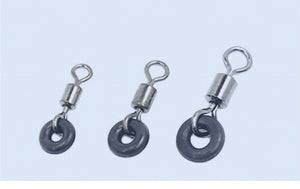 Ringer Swivels | Circle Hook Fishing Swivel (Live Bait)
Ringer Swivels
Regular price $0.00 $8.99 Sale
As an Amazon Associate I earn from qualifying purchases. Good Karma Sportfishing is a participant in the Amazon Services LLC Associates Program, an affiliate advertising program designed to provide a means for sites to earn advertising fees by advertising and linking to https://goodkarmafishingtackle.com.   
I recommend purchasing the Live Bait Ringer Ringer Swivel from the options on Amazon.com. 

You want the smallest Ringer Swivel you get so it stays tight on the hook shank. 

If you are a Good Karma Sportfishing Podcast listeners then you will want to order a few packs as I will reveal some new rigging tactics using Ringer Swivels over the next couple months. 
Capt. Ryan
 Brand: Ringer Swivels
Features:
Billfishing circle hook swivels in 2 sizes with integrated rubber o-ring
Size 1 for smaller baits - 25 per pack - fits 6/0-8/0 hooks
Size 2 for larger baits - 10 per pack - fits 10/0-12/0 hooks
Size 3 for largest baits - 10 per pack - fits 12/0 + hooks
Helps to improve hook-up ratio and speeds up rigging time - Used in many tournament wins already
Details: Ringer Swivels offer anglers a time saving and affordable way to rig your baits with circle hooks. These awesome swivels combine a standard barrel swivel with a rubber o-ring. The o-ring allows for fast attachment to your circle hook. Available in 2 sizes, which match industry standard circle hook dimensions. Size 1 matches to small, medium or "dink" size ballyhoo and standard 6/0-8/0 circle hooks. Because of this size, they're perfect for use with Squidnation Slammer Chuggers. Size 2 is ideal for larger pitch baits such as medium, select, or horse ballyhoo. Size 2 has a larger o-ring and will perfectly fit circle hooks from 10/0 to 12/0 and larger. Size 3 is ideal for the largest pitch baits such as horse ballyhoo, Mackerel, and Bonita.
UPC: 758086925204
EAN: 758086925204