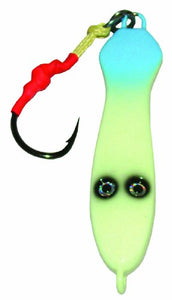 Blue Water Candy Roscoe Glow Jig with 500-Pound Kevlar Cord and Assist Hook, Size 8/0
Blue Water Candy
Regular price $19.56 Sale
As an Amazon Associate I earn from qualifying purchases. Good Karma Sportfishing is a participant in the Amazon Services LLC Associates Program, an affiliate advertising program designed to provide a means for sites to earn advertising fees by advertising and linking to https://goodkarmafishingtackle.com.   
Brand: Blue Water Candy
Color: BONEGLOW/BLUE
Features:
Product Type: Fishing Hook
Item Package Dimensions: 16.256 L X 4.572 W X 0.762 H (Cm)
Country Of Origin: United States
Item Package Weight: 0.400 Pounds
Binding: Sports
Details: The Blue Water Candy 77052 Roscoe Glow Jig with 500-Pound Kevlar Cord and Assist Hook, Size 8/0 is ideal for bottom fishing with freestyle jigging gear, which has become extremely popular in the past few years. The Roscoe resembles a squid and is designed to be used with assist style hooks and rings. The main body is painted in light emitting pearl glow with accent color. There is a small fin on the backside to help the jig cut through the water quickly. This model The features a 500-Pound Kevlar lead cord and a size 8/0 assist hook. While designed for bottom fishing, during product testing we noticed that it worked equally well in the middle of the water column too! The jig is great for Grouper and other bottom dwellers as well as Amberjacks, Tuna, Dolphin and other fish that feed on squid. Blue Water Candy saltwater fishing lures are made in the USA with a focus on quality and effectiveness. The extra attention to detail is what makes Captain Jodie Gay's Blue Water Candy Lures different from any other line of tackle. Whether fishing inshore or offshore our products are sure to help you catch more fish.
Package Dimensions: 6.4 x 1.8 x 0.3 inches