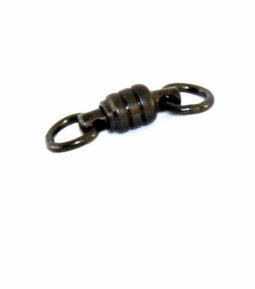 AFW Ballbearing Swivels-Mutton Snapper and Grouper Fishing Swivels
Good Karma Fishing Tackle
Stainless Steel Ball Bearing Swivel from AFW
Durable stainless construction with 2 welded rings
Sold individually
Sizes from 110 to 335lbs
Smooth bearings
Stainless Steel Ball Bearing Swivel is tough and compact.
For deeper water fishing applications you absolutely need a high quality ball bearing swivel or you "gonna tangle" or "twist up". If you go with cheap swivels you gonna end of up losing a lot time and whole lot of line. Just saying. 
A Stainless Steel Ball Bearing Swivel from AFW is a wonderful thing!  Incredibly durable stainless steel construction makes these a winner.  These swivels are much smaller than their strength ratings indicate.  Each AFW SS swivel has 2 welded rings for strong connections.  We sell these tough swivels individually.  We do this because sometimes, you just don't need 10 swivels at a time.  Sizes range from 110 to 335lbs.  Great for all sorts of applications, from leader ends to stiffrigs, to outriggers and more.